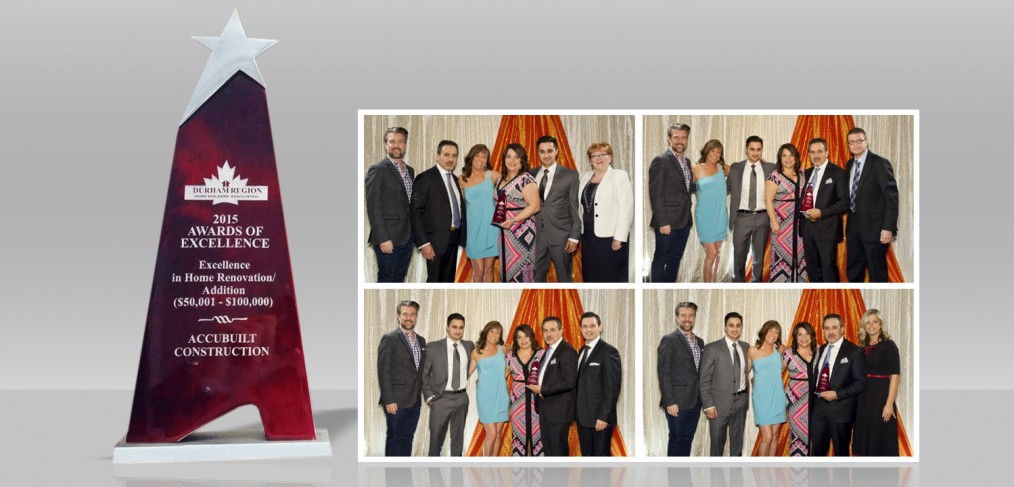 2015 DRHBA Awards of Excellence
DURHAM REGION HOME BUILDERS HONOUR THEIR BEST
The achievements of Durham Region Home Builders over the past year were celebrated on Thursday, April 16 where AccuBuilt Construction and DeSousa Homes brought home:
Excellence In Home Renovation/Addition ($50,001-100,000): AccuBuilt Construction – Olive Reno
Excellence In Home Renovation/Addition ($150,001 and up): AccuBuilt Construction
Excellence In Kitchen Renovation: AccuBuilt Construction – Hinterland Kitchen
Excellence In Custom Home (3501-4400 SQ. FT.): Desousa Homes – Broadview
Victor Fiume, DRHBA president, said, "It is an honor to be here in this room filled with the best home builders, renovators, trades, suppliers, and professionals in Durham Region. All of us here take pride in growing our community to be the best place to live, work and play." 
The esteemed panel of judges included: Sue Pitchforth, Decor Therapy Plus; Darlene Goode, Redmond Williams; Shawn De Taeye, De Taeye Designs; Ashley Stevens, Re/Max Jazz Inc.; Bob Malcomson, Greater Oshawa Chamber of Commerce, Jaan Krull, Remax; Julie Rennie, Ontario Shores; Caroline Rajcsany, Décor and Design by Caroline, and Jim Gaylor-Canadian Air Systems.
The 2015 Awards of Excellence Committee was led by Jennifer Hurd, who accepted the thanks of the 240 people present saying, "It is a lot of hard work, but it's so worth it! It is important to me to recognize the awesome builders in Durham Region." Her committee consisted of Mike DiPalo, Danielle Bleau, Wayne Clarke, Phyllis Dupuis and Anita DeVries.
Andrew Pike entertained the audience as the MC for the evening which included a stunning power Point by RMS Productions, complete with photographs of winning entries of gorgeous homes, communities and professionals.
Founded in 1953, the Durham Region Home Builders' Association represents approximately 170 member companies comprised of builder, developer, supplier, contractor and professional members representing more than 4,500 employees who share a common interest, concern and a genuine passion for the home building industry and for their customer